Here is my second installment in the "twin patterns" series. This time things are a little different: we're not talking about different colored versions of the same pattern. While looking for wrap blouse ideas I found those two patterns, from two different companies, that are exactly the same. Here are Simplicity 5397 "Reversible Wrap and Tie Blouse" and Butterick 6835 "Wrap-and-Go Blouse" : a donut shape with a band at the top and bottom to wrap/tie the top at the waist, closing the sides and creating a sleeve effect.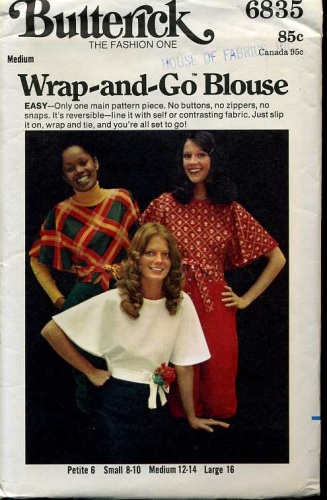 (source: Vintage Patterns wiki)
I found it amusing to find exactly the same pattern by two different companies. Obviously those were released during the same era, but I don't know their exact publication year. I wonder if they both had the same idea at the same time, or if one was released and then the other company thought it had to sell the same style so as not to be left out. It makes me think this was a popular clothing item at that time. Or maybe one company released it earlier in the decade, and when it got out of print the other tried to release the same style? It's a very basic pattern, so maybe there are tiny variations between the two but they can't be very important. You can also wonder wether other big (or small) pattern companies also released their version of this pattern.
I actually quite like this style. I think it would make a nice over-blouse in a sheer fabric with a tank top underneath in summer (you can probably see quite a lot of the body through those huge sleeves when you lift your arms), or in any fabric with a long sleeved top in autumn/winter. The flowing sleeves are quite typical of the 70s, but wouldn't look that much out of place today.
What do you think? Do you like it? Do you know of other patterns that were released by several companies?