As promised I'm starting to post about my second wedding attire. I'm going to let go of part of the suspense: I did make part of it, but not all. Despite Mr Robots first forbidding me to sew my own wedding dress (or rather, speaking strongly against it). Since I always find myself to be short on time and stressing over my project when they have an imposed deadline (like what happened for the dresses for my friends' wedding) he didn't want me to be in such a situation while preparing my own wedding. And I tried to do as he suggested, I promise, even if as a sewing addict making my own wedding dress seemed a very exciting project!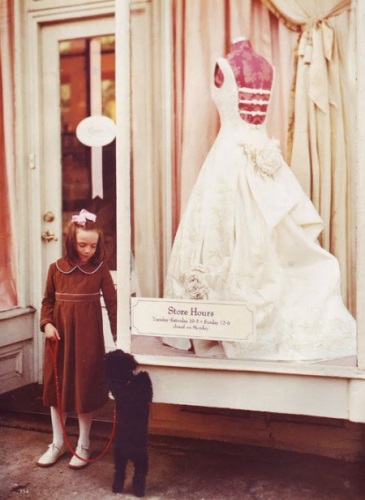 (beautiful picture found on Pinterest, I don't have the original source…)
Mr Robots wanted to have the pleasure of discovering my outfit on the D-day, so he had to know as little as possible about it in advance. Since I still wanted him to like my dress though, I collected and submitted him an assortment of pictures from the Internet, to get his feelings. The dress I was at first dreaming about: a 50′s inspired white tea length beauty, with a lace overlay all over it, a full skirt, a scoop neck and maybe short sleeves. His reactions to the pictures: he liked the feet-long dresses ("it's more elegant, more princess-like", can you believe it's him who said that?!), and he found that too much lace looked like Xxx. -_- You can guess I wasn't too happy about that… I had to find another style I liked. But one day I'll make that pretty tea length lace dress and he'll see that he was wrong!

(source 1, source 2, source 3, source 4)
So I went to try wedding dresses. I didn't want to spend a lot on a second dress I wouldn't wear often, so I gave myself a small budget. Remember how I said last time that I wanted to keep the big white dress for the french wedding? Here's the conclusion of those first sessions: the big fluffy white dress wasn't for me (at least, not at that time in my life). Ironic, isn't it? I didn't really feel them, wasn't especially taken (contrary to my maids of honer/witnesses) and didn't really picture myself getting married in the dresses I was trying on.
I decided to give the wedding dress shops one last chance with a colored dress I had seen online that had a little bit more personality. All the poeple who saw it loved it: it was beautiful and looked great on me, all that stuff. But while I was looking at me in the mirror suddenly it felt as if I was looking at someone's picture on Style Me Pretty. It was really nice indeed, but it didn't feel like me. Add to that that I couldn't see the exact color I would be ordering (brown x ivory), that the timing would be tight and that it was at the higher end of my budget, and I wasn't totaly convinced…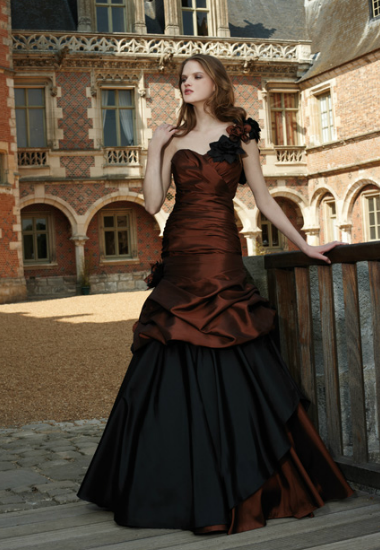 In the meantime a friend told me about tartan wedding dresses that he saw while on a trip in Scotland. Since I have a long time love for tartan, I really liked the idea. But I wouldn't order my dress online. And of course while browsing the Internet looking for inspiration on dress styles (to buy), my imagination started going loose: picture after picture, I couldn't help starting to get a design idea (to make), which seemed far more exciting than the dresses I was trying.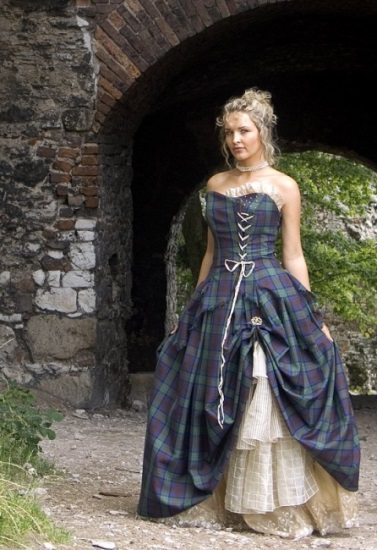 (heritage of Scotland)
Through Zibuzine I heard about Volute, a corsetry and custom dress making shop that had made her wedding corset (sadly they are now closed). I got in touch with them and our first meeting went really well: I liked the shop spirit and the owner was quite excited by my project. We talked about different options and prices.
After all that I sat down to talk with Mr Robots and we agreed that the custom-made outfit was the best option. ^_^ It would be made partly by Volute and partly by me (for the simpler pieces). And I think that even if he was worried he was actually quite pleased that I'd have once again something of my own design. ;p And so to close this up here is a little mosaic of the pictures that most inspired my outfit. You can click on the image to see a larger one. The story is to be continued in a later post…